As we all know, Santa Cruz County is known for its Halloween festivities year after year, but what about the rest of the holiday season? This holiday season is filled with more activities, events, and service projects than ever before! Santa Cruz is not only ranked top in the country for places to live, but makes sure the community is a priority as well. With hundreds of events to choose from, make sure you embrace all that Santa Cruz has to offer this holiday season and spread some joyous cheer!
Looking for a fun family event? Check out Santa Cruz's annual lighted boat parade! Want a special night out for that overdue date night? Make sure to purchase tickets for the 16th year of production of the ballet performance, "The Nutcracker."
Stop by Marini's Candies and indulge in their infamous homemade fudge on the way to the Holiday Parade happening in Downtown on December 2! This is an event for all ages featuring Bands, Dancers, Classic Cars, Synchronized Librarians, perhaps even a "Rootbeer Float!
For those who are looking to celebrate and have a good time, the "Downtown SANTA Cruise" event is back by popular demand! This event is a spirited, text based scavenger hunt, throughout Downtown Santa Cruz, including holiday spirits at your favorite Downtown Drinking establishments. Signup up online through Downtown Santa Cruz's Facebook page and have a blast celebrating the end of the year!
Featured below are some more event ideas to get you in the holiday spirit and to make sure you see what this town really has to offer!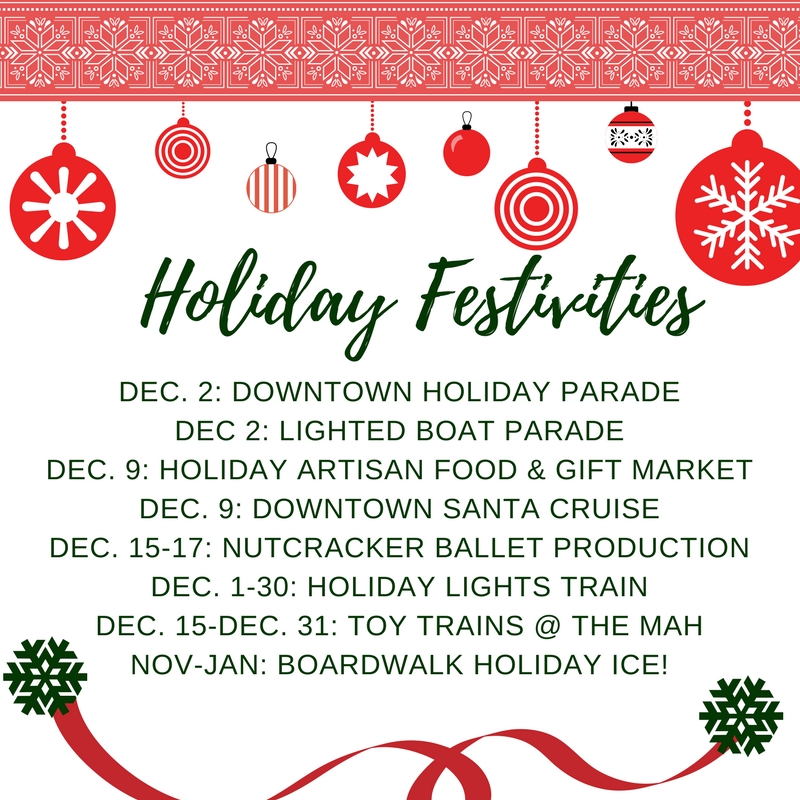 **For more information concerning these events please visit the following links:
Holiday Parade: https://www.facebook.com/pg/downtownsantacruz/events/
Lighted Boat Parade:http://club.scyc.org/cruising/lighted-boat-parade/
Holiday Artisan Food & Gift Market: https://www.facebook.com/pg/downtownsantacruz/events/|
Downtown Santa Cruise: https://www.facebook.com/pg/downtownsantacruz/events/
Holiday Lights Train: https://www.roaringcamp.com/events|
Toy Trains: https://www.facebook.com/pg/downtownsantacruz/events/
Boardwalk Holiday Ice: https://www.facebook.com/events/277196859458395/